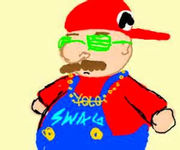 Swagio is a mentally disturbed hobo who thinks he has swag. He constantly gives people advice to be swag that make no sense. He has been arrested multiple times, and is now quite capable of evading police. Although he debuted in Bowser Junior's Swag, he was actually first mentioned in the earlier video SML Movie: Black Yoshi steals $1.02.
Appearances:
Ad blocker interference detected!
Wikia is a free-to-use site that makes money from advertising. We have a modified experience for viewers using ad blockers

Wikia is not accessible if you've made further modifications. Remove the custom ad blocker rule(s) and the page will load as expected.