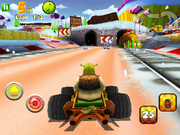 SML Kart is a video game canon to the SML series similar to Mario Kart, but it features SML characters.
Plot:
A competition held by Goodman offers 100,000 dollars to whoever can win the go-kart tournament, and the SML cast all try to win it!
Racers:
PoopMonster
Pooperman
Wario
Waluigi
Cody
Joseph
Toad
Woody
Tony
Brooklyn Guy
Craig
Screwball
Rosalina
Jackie Chu
Jeffy (appears in Lap 2 somehow)
Black Yoshi (Found an empty kart on Lap 5)
Laquita
Lap 1
Rosalina
Mario
Craig
Shrek
Bowser Junior
Cody
Toad
Woody
Tony
Brooklyn Guy
Screwball
Jackie Chu
Wario
Waluigi
Chef Pee Pee
Pooperman
PoopMonster
Laquita
Joseph
Lap 2
Mario
Bowser
Jackie Chu
Cody
Bowser Junior
Jeffy (Laquita is out for spitting all over the track)
Waluigi
Toad
Brooklyn Guy
Chef Pee Pee
Joseph
Pooperman
PoopMonster
Tony
Woody (distracted since he saw Shrimpos, as how he got 14th)
Craig
Shrek (Distracted by seeing Cheesecake on the course.)
Wario (crashes due to gas failing)
Rosalina (distracted by stars)
Lap 3
Mario
Chef Pee Pee
Jeffy
Tony
Wario (Kart gets instantly repaired)
Waluigi
Shrek
Joseph
Cody
Chef Pee Pee
Rosalina
Brooklyn Guy
Woody
Craig
Toad
Pooperman
PoopMonster
Bowser Junior (crashed into Craig)
Rosalina
Lap 4
Mario
Cody
Chef Pee Pee
Toad
Rosalina
Tony
Waluigi
Wario
Shrek
Brooklyn Guy
Craig
Toad
Pooperman
PoopMonster
Woody
Jackie Chu
Shrek
Joseph
Bowser Junior (crashes, once again)
Lap 5 (FINAL LAP!)
Joseph
Bowser Junior (Kart instantly gets fixed)
Cody
Shrek
Craig
Woody
Tony
Toad
Pooperman
Jackie Chu
PoopMonster
Chef Pee Pee
Brooklyn Guy
Waluigi
Wario
Black Yoshi (finds an empty Kart and races)
Rosalina
Laquita (ends up getting tackled by Jeffy, who is instantly disqualified)
Mario (ends up crashing into Brooklyn Guy, Kart catches on fire)
Results
Joseph wins the 100,000 dollars.
Others go home with nothing.
Mario receives coal from Goodman and a note saying, "You're a terrible racer."
Ad blocker interference detected!
Wikia is a free-to-use site that makes money from advertising. We have a modified experience for viewers using ad blockers

Wikia is not accessible if you've made further modifications. Remove the custom ad blocker rule(s) and the page will load as expected.