Pinky dinky doo is a girl that likes to make up stories.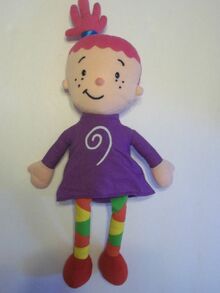 Personality
Pinky is very creative, smart, and helpful to her little brother Tyler. When she notices that Tyler has a problem, she helps him by making up stories, which help all the while. She doesn't like Shrek, because he clogs Pinky's toilet, leading to her calling Mario for help. She likes Bowser Junior and his friends, and Jeffy, because they are helpful.
She also has the ability to think big.
Relationships
Mario: Pinky likes Mario. Pinky calls Mario to unclog her toilet when it happens. Also, they want to date soon, along with Rosalina and Bowser, even though Bowser and Pinky hate each other.
Jeffy: Pinky likes Jeffy, and says "Good Morning" to him every morning at the start of the day. However, sometimes Pinky gets mad at Jeffy, but she still likes him for that.
Black Yoshi: Pinky hates Black Yoshi. Pinky hates him because he plays Call of Duty games too much, which annoys her.
Tyler: Tyler is Pinky's brother, which she helps him when he is having a problem. Pinky makes stories for him when that happens.
Mrs. McGanza: Mrs. McGanza is Pinky's teacher, which Pinky adores, so they have a good relationship.
Mr. Guinea Pig: He is Pinky's pet guinea pig, who has all kinds of abilities, and he can talk. (Well, even though he is a guinea pig.)
Bowser Junior: Pinky likes Bowser Junior. Especially when he and his friends help her out if she's in a sticky situation.
Tony: At the age of 3, she used to live with him, but at the age of 7, (her current age) she moved. Pinky is trying to do everything to get him to live with her again.
Abilities
Thinking big
Creativity
Trivia
Pinky was sick, so she didn't get to go to Six Flags with Junior and his friends, Jeffy, Mario, Rosalina, and Chef Pee Pee.
Here are Pinky's students: Daphne, Nicholas, Bobby, Abby, and 3 other unnamed students.
Pinky might hire Chef Pee Pee to cook for her, Tyler, and Mr. Guinea Pig in Chef Pee Pee Quits! Part 7.
For some reason, Pinky appears in every episode, but Red The Red Bird removes her.
Ad blocker interference detected!
Wikia is a free-to-use site that makes money from advertising. We have a modified experience for viewers using ad blockers

Wikia is not accessible if you've made further modifications. Remove the custom ad blocker rule(s) and the page will load as expected.