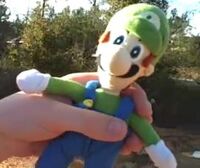 Mama Luigi is an ex main character of SuperMarioLogan. Him in fanon can only be made with the permission of MamaLuigi22. He is briefly revived for the series finale, before dying again.
Appearances:
SML Movies:
SML Shorts:
SML Comics:
Luigi's Mansion:
Quest For The Crystal Heart:
Movies:
Total Fanon Appearances: 19
Ad blocker interference detected!
Wikia is a free-to-use site that makes money from advertising. We have a modified experience for viewers using ad blockers

Wikia is not accessible if you've made further modifications. Remove the custom ad blocker rule(s) and the page will load as expected.