Plot: Jeffy steals Bowser Juniors Toy Trains and Bowser Junior Gets Revenge.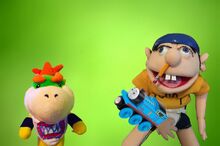 Characters:
Bowser Junior
Jeffy
Thomas
Gordon
Duck
James
Oliver (Cameo)
Percy (Cameo)
Mario
Bowser
Transcript
Bowser Junior: I Love Thomas!
Jeffy: What Doing, Junior
Bowser Junior: Hi Jeffy, I'm playing with trains
Jeffy: Wow! I like Thomas (Grabs his Thomas Trains)
Junior: JEFFY! GIVE THEM BACK
Jeffy: EH EH (Spanks Diaper)
Junior: I am so gonna get back at him!
(Junior Takes a nerf Gun and Try's to shoot Jeffy but no.)
Bowser: I Love Charleyyy!
Junior: Dad Dad Dad!
Bowser: What Now?
Junior: Jeffy Stole My Thomas Toys!
Bowser: Don't care!
Junior: Okay
Mario: Where's Jeffy?
Junior: Hey there Pig Nose.
Mario: Oh Hi Junior, Have you seen Jeffy?
Junior: Yea. He's in my room playing with Trains.
Mario: Okay.
Jeffy: Oh No! Duck Killed Thomas!
Mario: JEFFY GIVE JUNIOR HIS TOYS BACK!
Jeffy: No!
Mario: (Takes a nerf Gun and Jeffy Dies)
Junior: YAY THOMAS!
Jeffy: I Won't Call Rosalina Mommy Anymore!
End.